Download classic Mastasia Video clips from radrotica.com! Missed a video clip from your favorite model? You can now download individual video clips without being a member!

11-09-08 New Video: Stefani the Hooker, Milks Vanessa!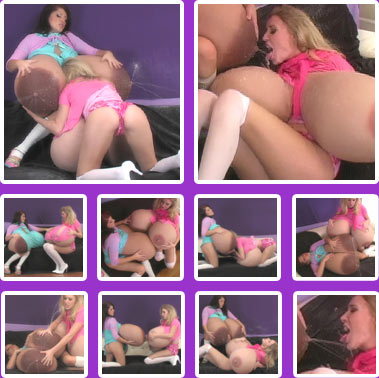 Vanessa calls up an escort service and asks for a blonde with huge boobs. Moments later, Stefani the mega titted whore enters the room! They talk and take each others tits out to play! They squash their mammaries and rub their nipples together! Vanessa orders Stefani to milk her. Stefani massages Vanessa's udders till her milk is squirting! Stefani sinks her face between Vanessa's juggs and gets sprayed with milk! Vanessa squirts tit-cum all over Stefani's body and face! Stefani opens her thirsty mouth and tastes Vanessa's nectar! Hot dialog and moans through out the entire video!

11-05-08 Holly Hindenburgs is Back and in a Big Bra!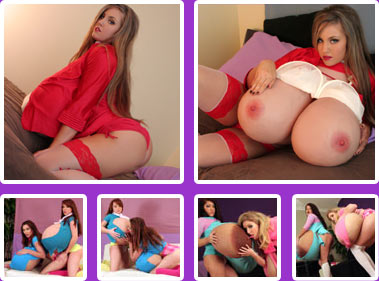 New photos of Holly Hindenburgs in a giant white bra! Also, photos of Janeen & Nikki and Stefani & Vanessa.
Video Repost!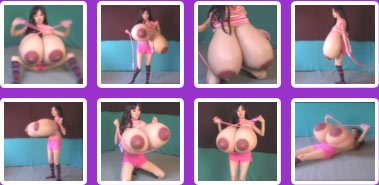 Rina jumps rope and her huge floppers wobble wildly!

11-01-08 New Video: Rina Gorges herself on Treats!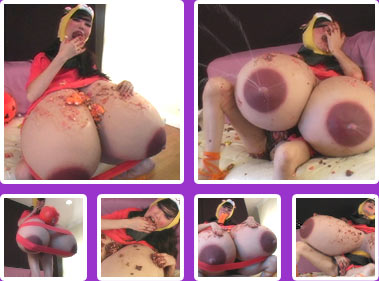 It's the day after Halloween and Rina has collected a ton of junk food from her trick or treating. She excitedly jumps up & down for joy, as her udders wobble. She stuffs wads of sweets into her greedy little mouth! She chews up chunks of chocolate and marshmallow matter, which she spits out and rubs on her tits! Rina gets off being naughty and rude! She starts lactating and rubs chunks of chocolate muck on her crotch pleasuring herself with messy abandon! Warning, this video is not for the squeamish, your dick might throw up!

10-28-08 Nikki & Janeen Loving and Lactating!


New photos of Nikki & Janeen kissing, sucking teats and milking! Also, new photos of Rina, Vanessa & Stefani.

10-26-08 New Video: Bianca wants you to Jack-off with her!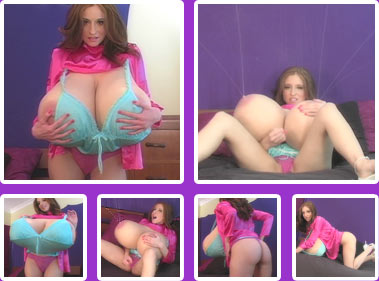 Bianca tells you to get your dick hard and jerk off on her firm tits! She turns around showing off of her amazing figure and wiggles her ass in your face! She squeezes her juggs together and plays with her lingerie, all while talking sexy to you! On the bed, she sticks her ass out and shakes it! She lies down, fondles her body while begging you to jack off and cum on her tits! She does the jerking motion with her hand, moans, groans and her tits erupt with milk streams that soak the ceiling!

10-21-08 Vanessa & Stefani Whore it Up!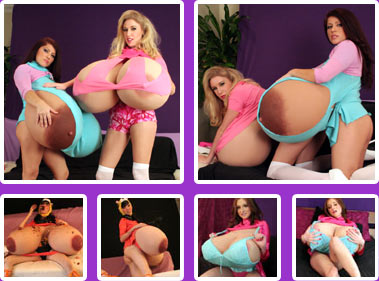 New photos of Vanessa & Stefani in slutty, boob-busting outfits have been added! Also, new photos of Rina and Bianca.
Video Repost!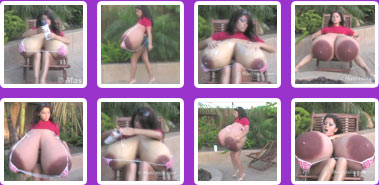 Vanessa lathers up her tits with Breast Expansion lotion to get even bigger knockers!

10-18-08 New Video: Janeen gets Nasty with Nylons!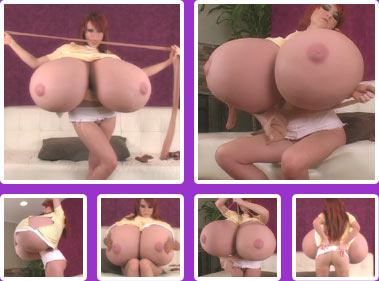 Janeen has a fetish for Nylons. She loves to wear them, play with them, and taste them! She starts out stretching... her back archs and her tits get pushed out! Then she puts nylons on her hands, plays with her puffies and mashes her tits! Then she puts on a pair of nylons on her legs and sticks her ass out! She takes them off and lustfully licks them! Then she wraps nylons around her round melons and makes them wobble! She isn't wearing panties this time... don't miss her tight pussy!

10-15-08 Rina the Tiger Eats Treats off Her Tits!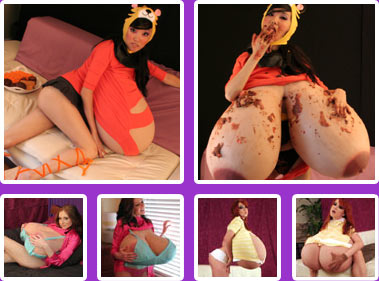 New photos of Rina dressed up for Halloween and indulging in sinful treats have been added! Also, new photos of Janeen and Bianca.

10-11-08 New Video: Stefani Waters her Tits in a Tight Top!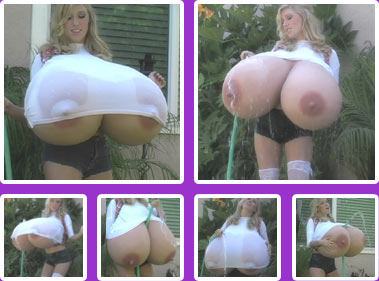 Stefani is watering the lawn in a skin-tight, white shirt! She runs the water over her nipples and shakes her tits in delight! She wets her entire chest while rubbing herself. She splashes water on her bouncing rack while she thrusts her chest out! She rubs the running hose back and forth against her crotch! She soaks her ass in her tight shorts! She takes her tits out and clasps the ejaculating hose in her cleavage! She tit fucks the hose and gets completely wet!

10-08-08 Bianca in Lusty Busty Lingerie!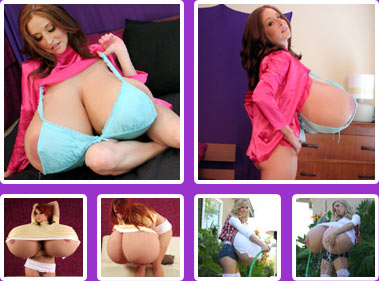 New photos of Bianca in bed wearing her sexy blue nightgown! Also, new photos of Janeen and Stefani!
Video Repost!


Mindy milks herself in front of a mirror!

10-04-08 New Video: Donna Drains her Domes in Bed!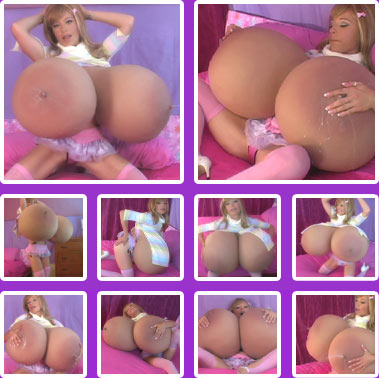 Donna's jutting spheres are firm and full of milk! Our new model gets into bed and entertains you with her tits! She shakes and bounces her gravity defying boulders! While squeezing and playing with her boobs, she stares into the camera... she knows you're jerking off to her planet-sized hooters! She spanks her tight ass! She licks her jugs and rubs her nipples until her domes erupt with milk streams! She lactates all over herself and onto the bed! Then she wobbles & gropes her huge squirting knockers some more!

10-01-08 Janeen Plays with Pantyhose!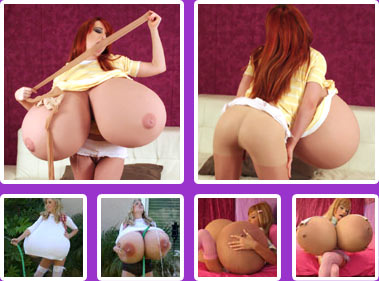 New photos of Janeen getting nasty with nylons! Also, new photos of Stefani and Donna have been added.

09-28-08 New Video: Titty Smacking and Mashing Milkers!

Monica and Vanessa are watching TV, but they can't agree on what to watch. These girls are always fighting over something. Monica snatches the remote from Vanessa who then tit-smacks Monica with a huge dildo! This leads to the girls having a tug of war with the dong. They take turns wacking and poking each other with it while their giant masses of hooter-flesh wobble all over the couch! Then they have an epic boob bumping battle! Before long both girls forget about fighting and start touching each other with affection! They grope, and tit-fuck each other until their jugs are gushing with fountains of mammary milk!

09-25-08 Stefani in a Wet White T-Shirt!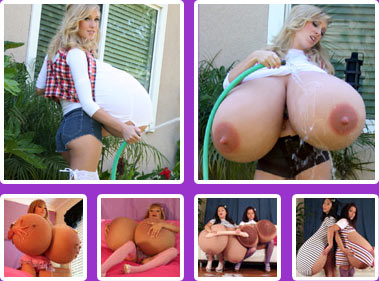 New photos of Stefani wetting herself! Also, new photos of Donna, Monica & Vanessa.
Video Repost!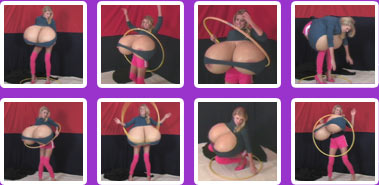 In case you can't get enough of Stefani, here she is doing the hooter hula!

09-21-08 New Video: Bianca & Janeen Messy their Mamms!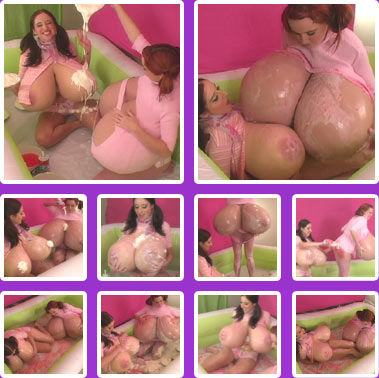 Bianca and Janeen sit in a kiddy pool full of cream pies and jello. The girls don't waste any time and immediately start getting messy! They throw pies on their tits, pour cream into their cleavage, and rub jello all over each other! They massage their slippery hooters together and crush cream wads in their cleavage! They slosh and slide around on their racks. Then Janeen gives Bianca a booby rub down over her entire body. Wet and messy mammary mayhem!

09-17-08 New Model: Donna Dairydomes!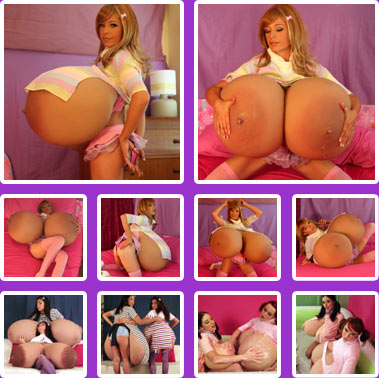 We are excited to introduce the very delectable Donna Dairydomes, a sexy vixen with giant globular glands. A new photo gallery has been opened for this bulbous beauty.
Also new photos of Monica & Vanessa and Bianca & Janeen have been added!

09-15-08 New Video: Nikki Shakes and Strokes her Nipples!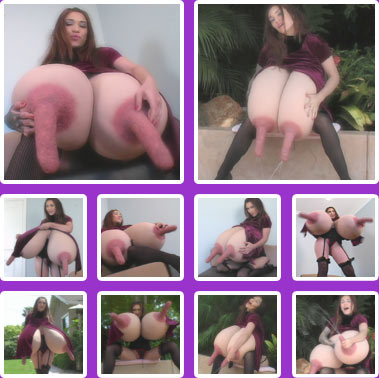 Nikki stares into the camera with her sexy gaze and flops out her incredible nipples! She teasingly shakes and plays with her udders! She bounces up and down on a chair with an ecstatic face as if she was getting fucked... all while her nipples move wildly! She sticks her nipples directly into the camera and orders you to "suck her big nipples!" Then she goes outside for a walk. She struts back and forth showing off her ass and legs. Then she has a jerking session! She furiously strokes one of her nipples as if it was a horny cock, and cums a giant load of tit-cum!

09-11-08 Super Stacked Vanessa & Monica in Stripes!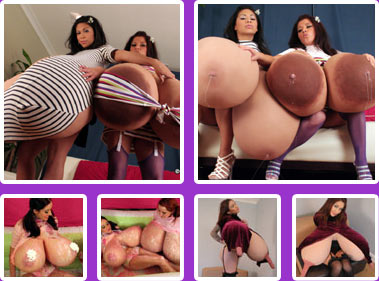 New photos of Vanessa & Monica steaming things up with their super sexiness! Also, new photos of Nikki, Bianca and Janeen.
Video Repost!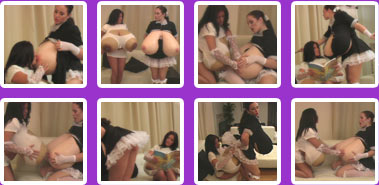 Holly, the milk maid, seduces Vanessa with her ample assets!

09-07-08 New Video: Rina and Stefani go Crazy for Cock!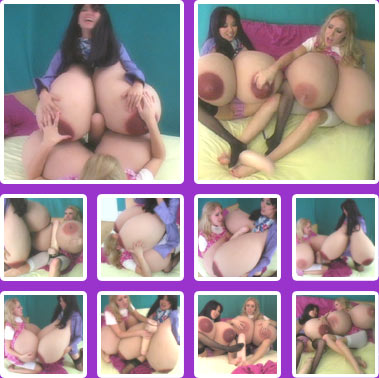 Stefani, wearing a huge strap-on boner, tells Rina that she loves her titties. Rina smothers Stefani in her massive cleavage and smacks her penis with her tits! The girls lube up the shaft and jack it off. Rina wraps her floppers around the huge dick and tit-fucks it in a frenzy! Then the girls bounce their wobblers together and take turns smacking the shlong against their boobs. After a lot more jugg-fucking, boob-smothering and tit-play the girls grab the rubber dong with their feet, caress their cans and unload their milk on it!

09-04-08 Bianca & Janeen Messy Up Their Mammaries!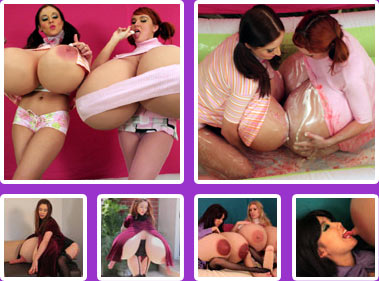 New photos of Bianca & Janeen creaming each other! Also, new photos of Nikki, Rina and Stefani.

08-31-08 New Video: Tiana Target Practices with Tit Milk!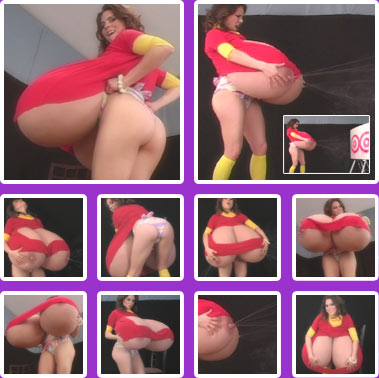 Tiana starts out teasing you by dancing and moving her giant anti-gravity tits! She rubs her body and lets you ogle at her awesome curves from all angles! Her chest-blimps look enormous from below! She blows you a kiss and bends over! She gives herself a mean wedgy, her panties get lost in her plump ass! After squeezing and rubbing her tits, milk erupts from her mamms! She aims at two targets and shoots strong, multiple streams of boob milk at them! She hits the bulls eye but drenches everything else as well!

08-28-08 Nikki's Nipples Poke out of her Slutty Outfit!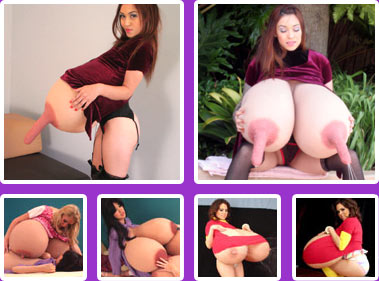 New photos of Nikki and her enormous nipples in slut attire! Also, more photos of Tiana, Rina & Stefani.
Video Repost!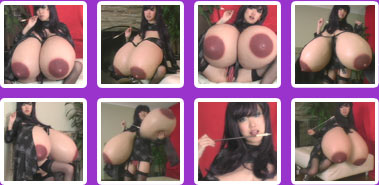 Rina smokes sexy, opens her legs and wobbles her torpedos!

08-24-08 New Video: Bianca & Stefani Play with Panties!


Stefani greets Bianca carrying a bundle of panties on her tits! They take turns trying several pairs on... removing each others old worn panties and then smelling them in delight! They giggle as they pull up their underwear giving each other wedgies in their ass and pussy! Stefani bends over, and swings her tits while Bianca spanks her! Both girls bend over, shaking and bouncing their asses together! Feeling especially naughty the girls put panties on their head, to dance and shake their tits! Then Stefani humps Bianca with her tit, cramming her fat nipple against her ass. Finally the girls French kiss sharing a pair of panties in their mouths!

08-21-08 Rina Plays with Stefani's Enormous Cock!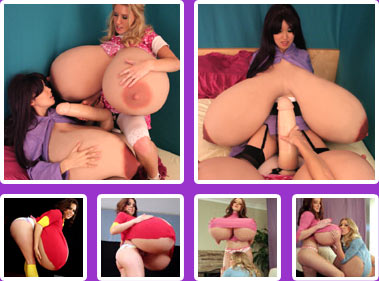 New photos of Rina enjoying the wrath of Stefani's giant strap-on dildo! Also, more photos of Tiana, Bianca & Stefani.

08-16-08 New Video: Vanessa & Monica Clash with Cleavage!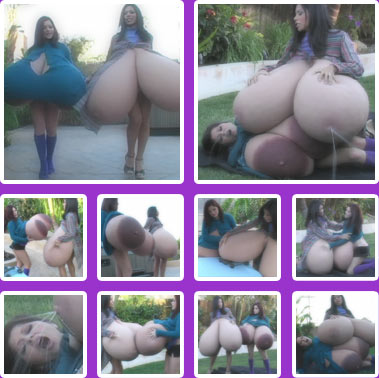 Vanessa and Monica hold hands and try to make their massive tits wobble as much as possible while they walk! After a few laps back and forth they stumble upon a scale. The Girls weigh their chest-sacks to see who is bigger. Monica's sag-bags weigh in much heavier. Vanessa gets terribly jealous and starts a boob fight! The two boob-brats bump their breasts together violently in a fury while they argue over whose tits are better! They push, shove, pull hair and wrestle while their juggs collide! Finally Monica pins Vanessa under her floppers and unleashes all of her milk!



08-14-08 Tiana Looking Red Hot and Delicious!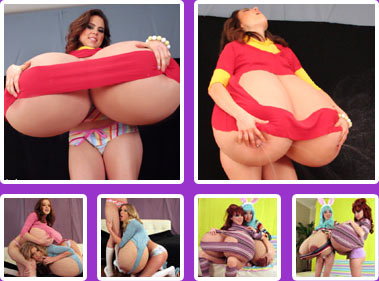 New photos of Tiana looking super hot, spraying tittie-milk! Also, more photos of Bianca & Stefani and Janeen & Rina.
Video Repost!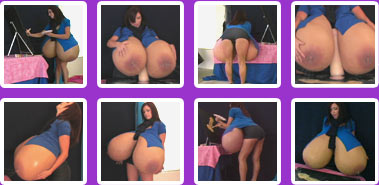 Mindy shows off her artsy assets, makes a milky masterpiece.

08-09-08 New Video: Janeen Trips Out with Rina the Bunny!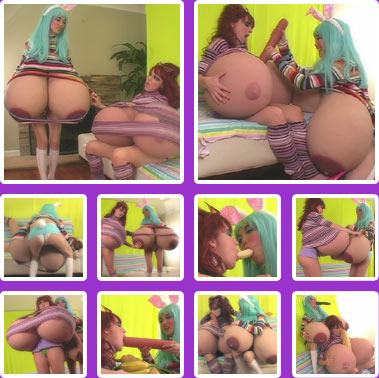 Janeen munches down a bag of magic mushrooms. She lies down, shuts her eyes and rubs her boobs. Out of nowhere Rina the Busty Bunny appears! Janeen is tripping balls! She doesn't believe her eyes, so she feels up Rina to see if it's real. The girls hug, dance, and curiously touch each others bodies. Then the girls pull each others tops off, bounce, bump, wobble and mash their udders together playfully! Rina takes out a platter filled with phallic shaped food. Rina crams a huge cucumber in Janeen horny mouth! Both girls lustfully suck on opposing ends of a banana! Rina tit-fucks Janeen hard with a giant sausage till her tits add milk to their picnic!

08-07-08 Bianca and Stefani Play with Each Other's Panties!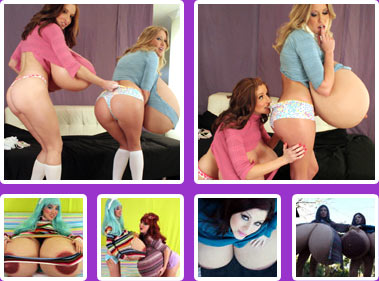 New photos of Bianca & Stefani posing in their panties have been added! Also, more photos of Janeen & Rina and Monica & Vanessa!

Note: Old videos get rotated offline
and can be purchase at radrotica.com